Are you a Catholic in the Kraków area who is planning on getting married but doesn't happen to speak Polish? Or perhaps you are a native of Poland getting married to a foreigner and you wonder what the process is since he or she doesn't speak Polish? Well, this program may be just what you need.
Because Christian marriage is a sacrament, the Catholic Church wants couples to be well-prepared. Dioceses and parishes offer marriage preparation to help couples develop a better understanding of the sacrament; to evaluate and deepen their readiness to live married life, and to gain insights into themselves as individuals and as a couple. Marriage preparation programs take different forms. Some couples attend a weekend retreat; others are matched with a "sponsor couple"; and others participate in  a series of marriage preparation classes offered by their parish or diocese. The important thing for engaged couples to keep in mind as they check numerous items off their pre-wedding "to-do" list is the well-known adage, "Your wedding lasts a day, but your marriage lasts a lifetime." The Church encourages couples to invest time and energy into the all-important work of preparing for their married life together.
We are happy to offer a marriage prep class for Catholic couples in Kraków whose language of communication is English. The program is approved by the Family Life Office of the Kraków Archdiocese. Classes will be taught by certified family life advisors Anna and Rafał Cycoń and a priest, Fr. Tomasz Albrecht, OP. Due to the pandemic all classes will be held online. The course consists of 4 meetings (2h each, Friday 7-9 PM), a Natural Family Planning presentation (1h, Friday 7-8 PM), and an individual consultation (" Poradnia Rodzinna",30min). The total cost is 250zł per couple, course plus NFP classes.
The next marriage prep course will start on: January 14, 2022.
The Winter course calendar:
Session 1: Friday, January 14, 7-9 PM
Session 2: Friday, January 21, 7-9 PM
Session 3: Friday, January 28, 7-9 PM
Session 4: Friday, February 4, 7-9 PM
NFP presentation: Friday, February 11, 7-8 PM
Individual consultation will be scheduled by each couple and the counselor at their convenience.
Our Staff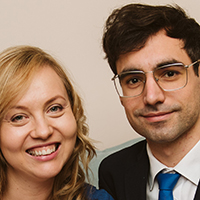 Anna i Rafał Cycoń are a young married couple, who have fully entrusted their relationship to God since the day they met.
Anna is a certified natural family planning teacher, counsels women and couples at her fertilitycare center (www.poradniadlazycia.eu), she is involved in pre-marriage courses. She graduated from the John Paul II Pontifical Theological Institute for Marriage and Family Sciences in Rome. Anna also works as      a master of ceremonies at international weddings.
Rafał, an engineer by education, is leading an IT company. He's also involved in a formation to help children in their development of the faith and Christian virtues. They live in Kraków together with their little daughter, Maria.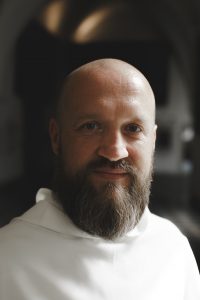 Fr. Tomasz Albrecht OP, MA, MDiv, was ordained in 2008 and joined the Order of Preachers in 2019. Before joining the order, fr. Albrecht has served for 11 years as a diocesan priest in the United States. He was involved in youth ministry, prison and hospital chaplaincy, education and parish group leadership formation. Fr. Tomasz currently serves the English speaking community of St. Giles church in Kraków, and is involved in marriage preparation in English and Polish.
Fr. Tomasz's interest revolves around themes of the new evangelization, inculturation and parish faith community building. Besides swimming and MTB biking, his great passion is liturgy, from a kitchen perspective, and realm of culinary arts – from its liturgical perspective.